Mientras el mundo celebraba que la reunión en Minsk de los jefes de estado de Francia, Alemania y Rusia con el Presidente Porochenko resultó en un nuevo cese al fuego entre Kiev y las declaradas repúblicas populares de Luhansk y Donetsk, los sectores guerreristas en Washington continuaban esfuerzos por expandir la guerra civil en Ucrania y provocar la guerra con Rusia. Ayer, el senador Jim Inhofe (R- Oaklahoma) presentó un
proyecto
para proveer armas letales a las fuerzas armadas de Kiev. En el afán de más guerra, el Senador Inhofe ofreció fotos como evidencia de la presencia militar de la Federación Rusa en las provincias rebeldes del este de Ucrania, sin antes verificar la autencidad de las mismas. Inhofe alegó que las fotos le fueron entregadas el pasado noviembre, en una audiencia del Comité de las Fuerzas Armadas, por el Teniente General
Semen Semenchenko
, comandante del Batallón de Voluntarios de Asalto al Donbas (la región insurgente) y recién electo al parlamento (Rada) en Kiev. Semenchenko estuvo de visita en Washington en septiembre, luego de
las graves pérdidas del ejército ucraniano
. El proyecto de Inhofe describe en detalle la evidencia gráfica de la presencia de fuerzas de "intervención" rusas:
The first set of pictures show Russian troops in T-72 tanks, BTR armored personnel carriers, and BMP infantry fighting vehicles entering eastern Ukraine, waiving Russian flags. This is not simply supporting separatists – it is an invasion of the Ukraine by Russia.

The second set of picture were taken by Ukrainian soldiers on the front line in eastern Ukraine.
Ayer, el
Washington Free Beacon
,
publicó
las fotos "con carácter exclusivo", añadiendo que el Senador Inhofe se había encargado de verificar su autenticidad. De inmediato, la nota fue recogida por el sector de operativos de la prensa amarillenta de D.C.
Fotos fatulas
Al poco tiempo de publicadas las fotos, varios analistas cuestionaron en Twitter la veracidad de las mismas, descubriendo que se trata de fotos del 2008 que datan del conflicto ruso-georgiano en Ossetia y otras del 2012, antes del conflicto de secesión en áreas de Novarossiya, iniciado hace ocho meses.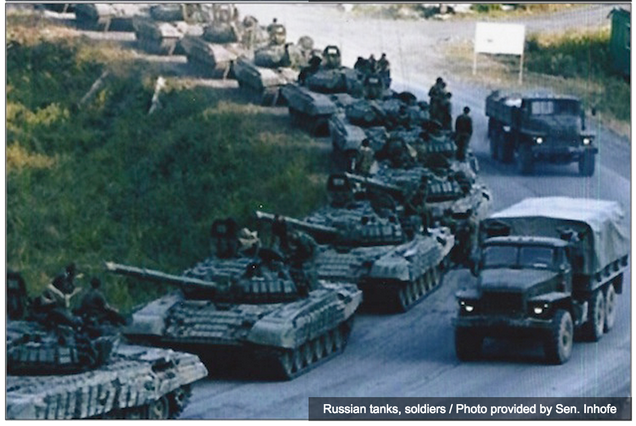 Una de las fotos presentadas por Inhofe
Graham Jenkins descubrió el origen de la foto de Inhofe y data del 2012.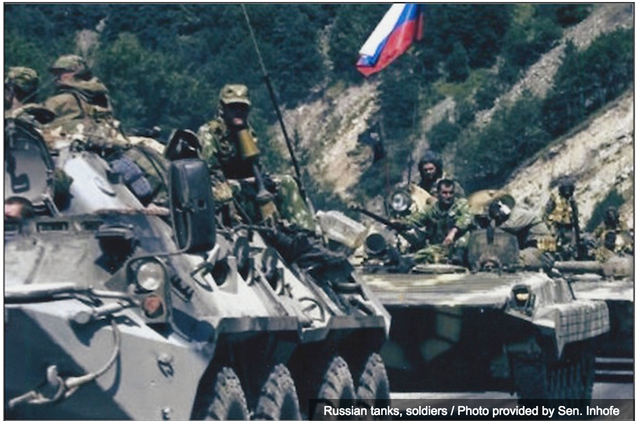 Dan Trombly descubrió que esta foto no fue tomada en Ucrania como alegó Inhofe. Es una foto de Prensa Asociada en Rusia de 2008 que acompañó un artículo de un periódico de New York.
El senador se volvió el hazmerreir de las redes sociales.
retractarse
.
"The
Washington Free Beacon
regrets the error."
Y el Senador Inhofe, furioso por la vergüenza que le han hecho pasar sus amigos en Kiev y sus ineptos ayudantes increpó a sus fuentes. Aunque, sin presentar aun evidencia, insiste en que hay intervención de tropas rusas en territorio del Donbass:
The Ukrainian parliament members who gave us these photos in print form as if it came directly from a camera really did themselves a disservice. We felt confident to release these photos because the images match the reporting of what is going on in the region. I was furious to learn one of the photos provided now appears to be falsified from an AP photo taken in 2008. This doesn't change the fact that there is plenty of evidence Russia has made advances into the country with T-72 tanks and that pro-Russian separatists have been killing Ukrainians in cold blood.
BuzzFeed
publicó
la lista de miembros de la delegación de Ucrania que proveyeron las fotos al Comité de las Fuerzas Armadas y al Senador Inhofe. El grupo incluye a parlamentarios y jefes paramilitares de Kiev y a un profesor de la Universidad de Georgetown.
Hasta el momento, ningún medio principal ha recogido la historia que es demostrativa de los operativos para plantar evidencia falsa y llevar a los pueblos a guerras que no desean... como el cuento de Bush de las armas de destrucción masiva en Irak.