Robert Redford emplaza directamente a Obama con una campaña de medios para enfrentar la amenaza del derrame en el Golfo y legislar una política pública de energía limpia:
Me complace que el Presidente Obama haya anunciado la designación de una comisión independiente para investigar las causas de la explosión y que determine medidas preventivas de futuro. Es un primer paso de importancia para enfrentar esta tragedia nacional y encontrar soluciones para prevenir futuros desastres.

Pero no es suficiente.


En estos momentos, el Senado tiene, sobre la mesa, legislación que ayudaría a que nos movieramos en una nueva dirección y pondría a EEUU de nuevo al control de su futuro energético. El American Power Act, redactado por los senadores Kerry y Lieberman, aunque no es perfecto, es un paso significativo hacia la reducción de nuestra dependencia en los combustibles fósiles y para encaminar a las empresas hacia el uso de fuentes de energía limpia.
El artículo original
aquí
.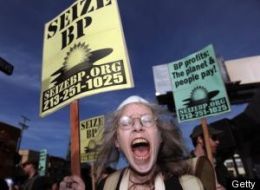 El analista Chris Matthews, otrora gran admirador de Obama, dijo en una entrevista que e
l Presidente lo tiene asustado
con su falta de acción en el desastre.
La gente
pierde la paciencia
. Hay denuncias de
otros desastres
en ciernes. Aún tras la explosión y el derrame, la Administración Obama ha concedido
27 exenciones
de estudio de impacto ambiental a compañías de petróleo y gas que exploran y explotan en el Golfo. Esta semana han sido
lanzadas doce plataformas
de exploración al Golfo. Esta semana la
NASA publicó
la imagen más impresionante de la mancha de petróleo semejante a un monstruo marino.
LECTURA RELACIONADA
Un lector
reseña
el libro
:
Street shows that Obama acted as a state legislator and has acted as a Senator in very predictable ways given the tens of millions of dollars he has received in campaign contributions from top officials in the corporate world, especially the financial industry. He pushes corporate friendly measures while alternately playing the populist on the campaign trail. As a state senator Obama held up a bill in committee that promised to deliver universal health care in Illinois and watered it down so that it merely called for the creation of a commission that would study how health care access might be expanded in the state. His effort was greatly appreciated by health care industry lobbyists. During the Democratic Primary, reflecting his strong backing by the financial industry, he refused to endorse caps on interest rates on mortgage loans. His only solution to the mortgage mess was to offer tax credits to home owners. As a US senator he supported Bush's tort reform bill that further protects corporate abusers. On the presidential campaign trail he claimed to have passed a Senate bill that would have required nuclear operators to immediately report even the slightest leak from their facilities. This was after a radioactive leak into a drinking water supply from an Illinois plant of Exelon, the largest nuclear power plant owner in the country and a leading supplier of Obama campaign contributions. Actually, Obama lied; the bill that he pushed ended up offering only guidance to local regulators as to how to deal with small leaks at nuclear plants that did not reach the threshold of being required to be reported (as the leak in Illinois did not). Meanwhile Obama argued for free trade pacts like NAFTA on his Senate campaign trail in 04', then later criticized them while running for president. He expressed a great deal of anguish about job transfers to Mexico from a Maytag plant in Galesburg Illinois. However Obama apparently did nothing to argue on the workers' behalf with Maytag director Henry Crown of Crown Investments, one of Obama's leading campaign contributors. It was reported earlier this year that Obama economic advisor (and chief economist of the Democratic Leadership Council) Austan Goolsbee had assured the Canadian Ambassador in Washington that Obama's jabs against NAFTA were merely campaign rhetoric and shouldn't' be taken seriously. In similar fashion, Obama bashes Wallmart, but his chief economic advisor, Jason Furman, is a Wallmart apologist.